I thought I'd share my swap card that I made for Leadership. I didn't do general swapping, so it was just 20 for an organized swap. I hope people liked it as it was much different than most of the ones I got back. They were mostly soft and bright, not the dark masculine thing I created. lol I was happy that I got to meet a few friends at the swap, especially Pat Smith who I was hoping to run into. (Hi, Pat!)
I'm trying out a new thing for the supply list, so you'll have to let me know what you think. If you are in the mood to shop, you can click the links and go directly to my store to buy all these goodies!
I had a fantastic time at the event. My roommate was super fun (Love ya, Anne Marie!) and I got to meet some awesome new people and a few blog followers too! It did make me think about where my business is at the moment and where I want it to go. I'm down to very few customers and the thought of dropping has crossed my mind more than once over the past few months. I am now hoping that maybe I can turn things around a bit. If you are local, please consider coming out to an event, contacting me about any questions or needs you might have, and let me know if there's any type of event you'd be interested in.
I'm sure if you've been on any Stampin' Up! related blogs or websites you saw the awesome information about the new markers that are coming soon. Exciting, right?! Learning to color was on my list to practice and improve on this year, so they are totally helping me out there. ;) I need all the help I can get, so yay! Here's a peek of the colors:
Finally, there's an awesome new promotion for new
My Paper Pumpkin
subscribers. We got to see the next 3 months of the kits and let me just say, if you aren't subscribing yet, GO DO IT NOW! I am so in love with the March kit! If you are a new subscriber, sign up NOW to get the Welcome Kit in February and then you can get the March kit that I LOVE! Plus if you sign up before February 10th you get a free set of markers! Between the markers and the clear block included, it's like getting all the cards and stamps for free! Who doesn't LOVE free?! If you sign up before January 25th, I'll also be sending out a little freebie. I'll also be hosting a My Paper Pumpkin night for my local subscribers to get together to assemble their kits. Fun, fun!
So head on over and sign up!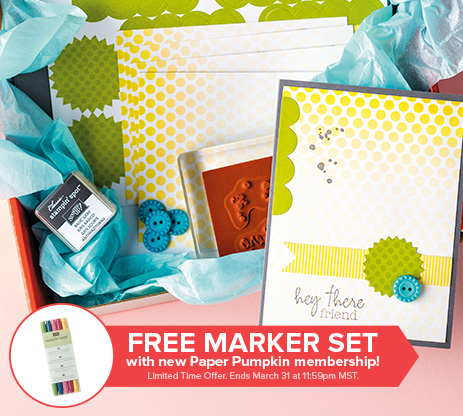 The other big announcement was also AMAZING! Demonstrators who signed up after July of last year and those who sign up before Convention registration ends get to attend Convention for free*. Well, free in that they don't have to pay the registration fee. You'd still be responsible for travel and hotel expenses. Saving almost $300 off the registration fee helps a ton though! I wish I was new again. lol Be sure to contact me today if you are interested in signing up and getting in on that!
Laila and Jason survived okay without me, so it was nice to get away and not worry too much. Maybe I'll have to do it again! Ha!